UPDATED: July 13, 2020

After 23 years of covering cars and the auto industry, Tirekicking Today shifted gears to focus on social issues and current affairs - led by the unprecedented ramifications of the Trump presidency.
---
More than 132,000 Americans have died from the Covid-19 virus, with more than 3 million cases reported since February. Many states and localities have been reviving restrictions, having determined that they "reopened" too soon.
---
Top Pandemic and Trump/Political News
July 13: As 37 states see increases in number of new Covid-19 cases, Trump steps up attack on Dr. Anthony Fauci, who many consider the most popular and respected medical expert on the virus. Trump continues to insist that the pandemic is under control and schools must reopen, while Dr. Fauci warns of even more dire outbreaks ahead and the risks of reopening too rapidly.

July 11: For the first time, the president wears a face mask in public, while visiting wounded service mambers at Walter Reed hospital. (CNN)

July 11: Only five states are showing a decline in number of new Covid-19 cases. Arizona has been hit hardest, followed by Florida and Texas. Trump and his allies continue to downplay the pandemic, but infections disease experts warn of dire weeks ahead. Number of new cases in U.S. reached record high twice in preceding week, according to CNN.

July 10-11: Trump commutes sentence of Roger Stone, a personal friend convicted of lying to Congress and witness tampering. House Speaker Nancy Pelosi calls the commutation "an act of staggering corruption."

July 9: Supreme Court rules that while Trump is not immune from subpoena in New York, U.S. Congress is barred from obtaining his financial records at present time.

July 8: Trump threatens to cut federal aid for schools that fail to reopen in the fall semester, after calling guidelines from Centers for Disease Control "very tough" and "expensive" to comply with. Despite his displeasure, CDC declines to revise them. (CNN)

July 8: Lt. Col. Andrew Vindman, a principal witness in Trump impeachment hearing, resigns from the military. His lawyer cites "bullying, intimidation, and retaliation" led by the president.

July 6: Fox News host Tucker Carlson launches cruel attack against Democratic Senator Tammy Duckworth (D-Ill.), calling her a "coward" and "fraud" who hates America. One of several women being considered as a vice-presidential candidate, Sen. Duckworth lost both legs during the Iraq War, while serving as a helicopter pilot. CNN notes that her alleged transgression consisted of suggesting a national discussion on removing monuments to the country's 'founding fathers."

July 6: "Tell-all" book by Mary Trump, the president's niece, will be published on July 14, two weeks earlier than planned. Simon & Schuster has released back-cover text, in which Ms. Trump – a clinical psychologist writes that "Donald is much as he was at three years old: incapable of growing, learning, or evolving, unable to regulate his emotions, moderate his responses, or take in & synthesize information." (CNN)

July 6: Supreme Court rules unanimously that Electoral College members who violate pledge to vote for a state's popular-vote victor may be punished.

July 4: Contradicting most medical experts, Trump asserts that 99 percent of Covid-19 cases are "totally harmless." Nearly one-third of states, especially in south and west, have shown increases in number of cases.

July 3: For two days in a row, number of new Covid-19 cases in U.S. sets record. Meanwhile, Trump heads to Mount Rushmore in South Dakota to "celebrate" July 4th with supporters. About 7,500 are expected to attend, with no social distancing arranged and face masks optional. Addressing the crowd, Trump charged that leftist protesters have undertaken a "merciless campaign to wipe out our history, defame our heroes, erase our values, and indoctrinate our children," intent on a campaign to "end America."

July 1: Responding to a plan to paint the words "Black Lives Matter" in large letters on the pavement ahead of Trump Tower in Manhattan, Trump calls that phrase a "symbol of hate," insisting that the action would be "denigrating this luxury Avenue." (CNN)

June 29-30: Dr. Anthony Faluci, the well-known infectious-disease expert, says he won't be surprised if the number of new cases daily reaches 100,000. As many states see new infections breaking records, Trump insists there are merely "embers that need to be put out," calling his leadership of the pandemic "phenomenal" and referring to himself in a tweet as "THE LONE WARRIOR." He is among few officials of either party who refuse to wear a mask or endorse wearing one. Covid-19 cases are rising in 36 states, and some are cutting back on re-opening steps. (CNN)

June 29: In one weekend, Trump retweets two allegedly racist videos. One shows a Florida senior citizen in a golf-cart parade, shouting "White Power." The second features a couple pointing weapons at what The New York Times describes as "peaceful black protesters." The first ad was deleted after three hours, as a spokesperson claimed Trump was unaware of the man's racially-charged words.

June 29: A Trump campaign ad, running on Facebook and Twitter, quotes three prominent Democrats, whose words appear to condone political violence. Dissecting the videos, CNN reported that each one took brief phrases spoken by the three Democrats, about completely different subjects, stringing them together – backed by video clips of violent behavior – to totally distort the meaning of what actually had been said at an earlier time.

June 26: Vice-president Pence declares that virus response and economy are going well, while total number of Covid-19 cases in a single day reaches record high. Several states that re-opened in recent weeks have now backtracked, imposing at least some of previous lockdown guidelines. (CNN)

June 23: At rally in a Phoenix megachurch, Trump speaks to what Politico called a "packed crowd" of some 3,000 students. Despite a local ordinance requiring face covering, few attendees wore masks. In his talk, the president described Democrats as intolerant, "totalitarian," and "vicious" in stifling dissents, adding that they let anyone vote, "even if they're not citizens."

June 20: Trump rally in Tulsa draws fewer than 6,200 supporters, according to that city's fire department – far short of the 19,000-plus that were anticipated. Protests near the site are peaceful. The Trump campaign had claimed that a million people sought tickets for the event. During his two-hour speech, Trump boasts that he had requested a reduction in Covid-19 testing, reacting to the large numbers of new cases that were being discovered daily. An administration official soon informed CNN that the president was "obviously kidding," but critics, including former vice-president Biden, expressed outrage.

June 19: In morning Tweet, Trump threatens activists planning to protest at his Tulsa rally, promising rougher treatment than they may have faced at previous events. Despite having declared acceptance of "peaceful protesters" not long ago, he now lumped them with "anarchists, agitators, looters or lowlifes." (CNN)

June 18: Revealing book by former national security adviser John Bolton to be placed on sale June 23. Early comments describe some of its contents as "explosive." Another book, to be published in July, was written by Dr. Mary L. Trump, a niece of the president who has a doctorate in psychology. Titled Too Manu and Not Enough: How My Family Created the World's Most Dangerous Man, to's said to focus on Donald Trimp's early years.

Please Click Here for News Briefs from mid-March through mid-June 2020
---
Quick Look: Early Days of Covid-19 in the U.S.
Late in 2019, when the coronavirus first appeared in Wuhan, China, few could have imagined the impact it would soon have on the rest of the world, including the U.S. As the number of cases - and deaths - grew in China and the virus reached into Europe, many Americans - including Donald Trump - dismissed or ignored the potential danger to humanity, worldwide. Not until the virus (now called Covid-19) began to sicken Americans, sometimes resulting in death, did the tendency toward denial begin to evaporate.

Finally, in mid-March, the president began to react in accord with the magnitude of the crisis. By then, New York City was going into lockdown, elderly residents of a Seattle nursing home were dying, and some cities began to take drastic action to keep the virus from spreading. The governor of Illinois, for one, ordered that all bars and restaurants close for the duration, except for takeout orders. Americans were emphatically warned to maintain "social distance," staying at least six feet away from all other people. Elderly persons, and those with health issues (especially respiratory conditions) were strongly advised to stay home. Lacking clear directives from the federal government, state and local officials initiated their own orders or admonitions to the public. Meanwhile, hospitals were running out of protective face masks, ventilators, and available beds.

Writing in The New York Times on March 18, Jennifer Finney Boylan may have painted the most pointed picture of the coronavirus pandemic: "The world we lived in has vanished – slowly, and then suddenly. Even if we manage to defeat the coronavirus, that world will not return."
---
---
Two years of Trump News Briefs (January 2017 to December 2018) are available as a PDF file. Please see description of White House Woes at right.
---
2020 Book Publication Schedule

TK Press (a division of Tirekicking Today)
Tirekicking Today editor James M. Flammang, the author of more than thirty books (including six for children), has been working for some time on additional titles. Some are nearing the final stages of pre-production. Each views its subject from an oblique and often lighthearted – yet serious – perspective.

Note: This schedule is still under contruction. Preliminary outlines and/or unedited excerpts are available, accessed by clicking on each link. Additional excerpts will be available soon.

Inquiries from book publishers or agents are welcome. Please send e-mail to JF@tirekick.com.
Fraidy Cat
Surviving a lifetime of unwarranted fear and fright
A personal look backward, focusing on lessons learned about living with debilitating fear and anxiety, including ways to cope and survive. Unlike some self-help books on the subject, Fraidy Cat isn't just about fear in general, recounted and analyzed by an impartial observer. No, this is personal, debilitating, overpowering fear – the sort that constricted and devastated a decades-long chunk of the author's own life, and continues to do so, if to a less ferocious degree. This personal memoir covers more than half of a lifetime, starting in adolescence.
Fraidy Cat: Contents ... Outline ... Excerpts: Chapter 1 (Childhood) ... Chapter 3 (Sex) ... Chapter 5 (Addiction)
Untied Knots
Fiction by Flammang
Two groups of short stories, each with a tangy twist, make up Untied Knots. Those in "On the Go" are travel-based, taking place largely in Mexico. Much of the inspiration stems from real-life journeys and random residence within that country, undertaken as far back as the mid-1970s.

"Here At Home" tales focus on folks whose escapades are more localized. Though fictitional, most are based at least in part upon real people and places. The collection also includes several early stories, previously unpublished, from the author's archive.
Untied Knots: Contents ... Introduction ... Excerpts: Night Train ... Scandal ... Bad Sports ... Desk Duty ... Ready? Go!
Absurdities
Logical Lapses in everyday life and thought
Comprehensive collection of stinging essays gazes with disbelief at dozens of aspects of modern life. Chapters are arranged in sections, including Work, Money, Identity, Communication, Technology, Consumption, Politics and Law, Pastimes, Sex, and Transportation. Work on this book began well before the 2016 election of Donald J. Trump. Therefore, the final chapters will focus on his bizarre, unprecedented presidency.
Absurdities: Contents ... Overview .. Chapter Outline ... Excerpt from Section III - Work (Our Biggest Myth)
Work Hurts
Reflections on a wasted life
Questions the conventional wisdom on work and careers. For untold millions, including many with "good" jobs, each day's toil delivers no joy and little reward. In addition to scrutinizing workplace issues in the past, Work Hurts looks at the growing "gig" and "temp" economy, and its impact on less-than-happy toilers.
Work Hurts: Contents ... Chapter Outline ... Chapter 1 (Without a Paddle)
Hotel Life
Living small in an age of large
Assesses the satisfactions of simpler living and minimal consumption, while chronicling the joys (and drawbacks) of residing in low-end accommodations. Hotel Life considers such relevant topics as the guaranteed income, shrinkage and change in the labor movement, older suburbanites moving back into the city (or pondering the RV life), and the recent small-house movement.
Hotel Life: Chapter Outline ... Overview ... Contents
Steering Toward Oblivion
A caustic look at the history and future of the Car Culture
A caustically critical – but frequently humorous – observation of the car culture and auto business, including the automotive media. Examines automotive history as well as today's (and tomorrow's) cars, emphasizing their impact on daily life, the transportation network, the economy, popular culture, and the environment. Author James Flammang has covered the auto business as a journalist and historian since the 1980s.
...
Steering: Chapter Outline ... Overview ... Excerpts: Chapter 1 (Media) ... Chapter 13 (Motoring Manners)


For further information, please contact us at JF@tirekick.com.
---
Books by Flammang ... already on sale
TK Press, the book-publishing division of Tirekicking Today, has issued three titles since 2014. Each was written by James M. Flammang, author of more than two dozen previous books. Click Here for a list of his books and other publications.

Incompetent: Coming up short in a world of achievement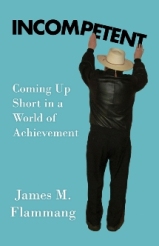 Whether it's sports, business, personal relationships, the arts, or any other area of life, some of us score a flat zero in the skills and talents department. Blending serious concerns with a humorous tone, each chapter covers a specific area of incompetence with which the author, amazingly, is all too personally familiar.

Incompetent is available at: Amazon ... and Barnes and Noble
ISBN (print): 978-0-9911263-2-3 ($10.50)



Mr. Maurice Knows It All ... and tells you so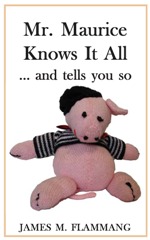 In 78 concise chapters, the debonair yet down-to-earth stuffed pig known as Mr. Maurice–who just happens to know everything–unleashes a torrent of acerbic, humorous, delightfully wise words on subjects ranging work to movies, money to citizenship, from status to guilt. An emigrant from Britain, with obviously French heritage, Mr. M. manages to combine strictly contemporary attitudes and piercing opinions with a gallantry and sophistication reminiscent of the era of Mark Twain and Ambrose Bierce.

Mr. Maurice ... is available at: Barnes & Noble ... and Amazon.
ISBN (print): 978-0-9911263-3-0 ($8.50)

Both titles may be purchased directly from TK Press. PDF review copies are available FREE. Just send e-mail to jf@tirekick.com. Please ask about printed copies, signed by the author.
Excerpts from Incompetent and Mr. Maurice ... may be seen at Bublish.com.


---


• Articles and essays on topics related to current affairs, and occasionally about relevant automotive subjects, will be posted here periodically.





• Editor James M. Flammang contributes to vehicle reviews at NewCarTestDrive.com.


---
---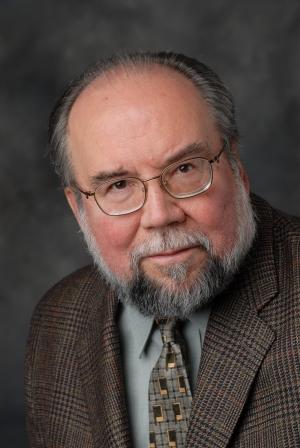 Tirekicking Today editor James M. Flammang, a veteran independent auto journalist, has contributed countless product reviews and feature articles to such publications as autoMedia.com, New Car Test Drive, CarsDirect, and Kelley Blue Book. He has written extensively for a variety of major outlets, including J.D. Power, cars.com, and the Chicago Tribune. Flammang is a member of the Freelancers Union and the International Motor Press Association, and is a past president of the Midwest Automotive Media Association. The author of more than thirty books, mostly on auto history, also has contributed extensively to Consumer Guide publications and to such trade publications as Ward's Dealer Business.
TK Press, established in 2014 as a division of Tirekicking Today, has already published three books by Flammang. Several more titles (described above) are well underway, scheduled for publication diring 2020.
---
---

"[W]hile there is a soul in prison, I am not free."

Eugene Debs (in 1918 court statement)
Five-time Socialist candidate for president

---
New section is being developed for this space
---
Countdown to Trumpland
Early January, 2017
Leading Up to Inauguration
---
Delight or Disaster?
Trump presidency signals either his promised return to a "Great" America, or the demise of Constitutional Democracy, with economic tragedy for lower and middle classes.

As the New Year begins, Americans face a political scene that can only be called unprecedented. To about half the voters in November's election, the arrival of Donald Trump as president-elect demonstrated a fresh start for the country. To the other half, seeing this willfully ignorant, ill-behaved, flagrantly self-absorbed bully prepare to take the reins of government – despite fierce distaste for so many of the principles and values upon which this nation was founded – is an occasion for dread, distress, and abject hopelessness....

Click here for more.
As soon as Donald Trump entered the White House on January 20, 2017, Tirekicking Today halted its section "Countdown to Trumpland." Our follow-up series (at right, above) is titled "White House Woes: The Trump Presidency."
In addition to articles on specific issues that President Trump deals with, we include news items on the latest actions and words emanating from, and about, the Trump Administration.
---

News Headlines
in the Auto World
• October 29: General Motors, Fiat Chrysler, and Toyota say they will not cooperate with California's two-tier emissions stzndards system. Ford, Honda, and BMW previously announced that they back California's stance, defying the president.
• November 17: New Mustang Mach-e electric SUV shows little kinship to sporty Mustang coupe.
• November 21: Tesla unveils electric-powered, the futuristic Cybertruck that lacks a cargo bed and shows virtually no resemblance to conventional pickups.
• January 1, 2020: Ousted Nissan chief Carlos Ghosn, on trial in Japan and barred from leaving that country, manages to reach Lebanon – which has no extradition treaty. Early in January, Ghosn surreptiously leaves Japan, turning up in Lebanon. Ghosn holds passparts from Lebanon, Brazil, and the U.S.
• March 18: Automakers plan temporary shutdown of U.S. factories, due to the Coronavirus crisis.
• March 27: Trump uses Defense Production Act to order General Motors to produce ventilators, essential to help severely ill Covid-19 patients breathe. A previous contract had been signed with GM, but resulted in a dispute about the dollar amount involved. Governors and mayors have pleaded for more ventilators in their grossly oveburdened hospitals.
• May 19: Two Ford plants reopen, as part of Trump's intent to bring workers back to their jobs. A day later, both plants ahut down again because a worker tested positive for Covid-19.
• July 8: Chevrolet is dropping Sonic compact sedan.
---