UPDATED: July 22, 2021

Opinion
At least he's gone ... Oops, sorry: he's still in charge!
Mr. Trump's influence on millions of supporters and Republican lawmakers shows no sign of waning. He still commands attention pursuing his litany of grievances, led by baseless allegations that the election was stolen from him. Many observers consider today's Republican Party to be the "Trump Party."
---
After 23 years covering auto industry, Tirekicking Today shifted gears to focus on social/political issues - led by unprecedented ramifications of the Trump presidency.
NEW! Used Car section is now open (bottom of page), starting with articles on used car trends and growing electric-car market.
---
American death toll from Covid-19 virus passed 600,000 mark in early June. New cases began to decline in February, but total number reached 33 million. (U.S. population tops 331 million.)
By June, more than 168 million vaccinations had been administered in the U.S. and nearly 136 million Americans (40.9 percent of the population) were fully vaccinated. Yet, millions – especially Republicans – continue to refuse the jab. By mid-July, medical experts warn of likely surges in Covid cases, especially among the unvaccinated, due to the more contagious Delta variant.
---
Post-Inauguration News Briefs
Selected news items from the early months of the Biden administration will be added periodically. So will short essays on the bitterly partisan U.S. political scene.

July 21: House Speaker Nancy Pelosi rejects two of the five Republicans put forth by minority leader Kevin McCarthy to serve on committee investigating January 6 Capitol riot. Pelosi cited statements made and actions taken by Jim Jordan (R-Ohio) and Jim Banks (R-Indiana), including their intense promotion of the baseless charge that the 2020 election was "stolen" from Donald Trump. McCarthy soon announced that no Republicans will serve on the committee. Previously, Republicans had rejected attempt to establish a fully bipartisan investigation.

July 16: White House releases video featuring Dr. Anthony Fauci (age 80) and pop singer Olivia Rodrigo (18), encouraging young people to get vaccinated. Rise in number of Covid-19 cases among young people has been worrisome, while the CDC director warns of "pandemic of the unvaccinated." (CNN)

July 13: "We are facing the most significant test of our democracy since the Civil War." So said President Biden during a Philadelphia speech on voting rights.

July 13: After hosting Euro 2020 football (soccer) finals, United Kingdom sees daily Covid case rate shoot up to 42,000 – a figure unseen since January. Meanwhile, cases are surging in U.S. "hotspots," mainly among the unvaccinated. (CNN)

July 8: President Biden announces that American military will depart from Afghanistan by August 31, ending 20-year "mission." Critics blast his speech, warning that the Taliban will continue to gain strength.

July 2: Supreme Court denies access by House Democrats to secret grand jury records pertaining to Mueller investigation, which aimed to determine whether Donald Trump lied to special counsel Robert Mueller. (CNN)

July 1: House Speaker Nancy Pelosi selects Rep. Liz Cheney (R-Wyo.) to serve on commission investigating the January 6 rioting at the U.S. Capitol. Minority leader Kevin R-Calif.) claims to be "shocked," having warned that any participating Republican would lose his or her committee assignments.

June 30: C-SPAN poll of presidential historians ranks Trump one of worst ever. His highest ranking (for public persuasion) was 32nd. He ranked lowest (position 44) in moral authority, with administrative skills close behind. Overall, Abraham Lincoln ranked No. One, followed by George Washington. Trump ranked fourth from the bottom, ahead of Franklin Pierce, Andrew Johnson, and James Buchanan.

June 24: Accompanied by several Congressional Republicans, President Biden announces bipartisan "deal" on infrastructure, focusing mainly on "hard" items like roads and bridges. Price tag is $1.3 billion, down substantially from the broader $1.9 billion bill he'd favored. Later, the president states that he will not sign this bill unless he also submits an additional bill that would include "softer," socially-relevant items.

June 18: President Biden signs legislation establishing "Juneteenth" as national holiday, starting immediately. "Juneteenth" commemorates the last group of slaves in Texas, who did not hear about their release from slavery until June 19, 1865 – 2.5 years after Abraham Lincoln had signed Emancipation Proclamation.

June 17: In 7-2 vote, Supreme Court blocks third attempt by Republicans to overturn Affordable Care Act (Obamacare). Two Trump appointees, Brett Kavanaugh and Amy Coney Barrett, join in majority opinion.

June 15: Twenty-one House Republicans vote against awarding four congressional gold medals to Capitol police officers who engaged with rioters on January 6.

June 15: Governors of New York and California announce re-opening of their states, citing percentages of people vaccinated and decline in Covid-19 case. See comment at right.

June 8: Bipartisan Senate report on January 6 assault on Capitol contains new details, but omits Trump's role as instigator and avoids the world "insurrection."

June 7: Rep. Liz Cheney (R-Wyo.) calls Trump's incendiary speech prior to January 6 Capitol riot "the most dangerous thing" any president has done, adding that it's the worst violation of the presidential oath of office. (CNN)

June 3: CNN reports that Donald Trump's fixation on his imaginary election loss has been intensifying, as he curtly dismisses warnings from close advisers that it's time to "move on."

May 31: Marking the close of the 74th World Health Assembly, Tedros Adhanom Ghebreyesus, Director-General of the World Health Organization (WHO), declared that despite the decline in Covid-19 cases and deaths, "it would be a monumental error for any country to think the danger has passed. (CNN)

May 31: Speaking at Arlington National Cemetery on Memorial Day, President Biden urges Americans to remember and consider those who died during military service. "Democracy itself is in peril," he asserted, both "at home and around world.... how we honor the memory of the fallen will determine whether or not democracy will long endure."

May 31: Reuters/Ipsos poll finds that 53 percent of Republicans believe Trump is the "true" president. In Quinnipiac University poll, 66 percent of GOP respondents expressed belief that Biden's election was illegitimate. An even greater number (85 percent) said they prefer political candidates who generally agree with Donald Trump. Meanwhile, The Washington Post reports that while he was president, Trump made more than 30,000 false and misleading claims.(CNN)

May 30: Poll finds that 23 percent of Republicans support QAnon conspiracy theories. which assert that government, media, and financial interests are controlled by Satanic pedophiles. "True patriots," in the opinion of 28 percent of Republicans, "may need to resort to violence to save the country," as reported by CNN.

May 28: Senate votes 54-35 against establishing a bipartisan commission to investigate the root causes of the January 6 insurrection. Only six Republicans voted in favor of doing so: Bill Cassidy, Susan Collins, Lisa Murkowski, Rob Portman, Mitt Romney, and Ben Sasse. Sixty "yea" votes would have been needed for passage.

May 23: Rep. Marjorie Taylor Greene (R-Ga.) likens face-mask mandate for House members with the Holocaust, comparing it to the Nazi requirement during World War II that Jews wear a Star of David. Her comment drew intense backlash from both Democrats and Republicans. Rep. Lyn Cheney (R-Utah), recently ousted from her GOP leadership role for calling out Donald Trump's false election claims, called Greene's statement "evil lunacy."

May 13: Centers for Disease Control (CDC) updates Covid prevention guidelines, announcing that vaccinated people no longer need to wear face masks or maintain social distancing. Exceptions include public transit and hospitals. President Biden calls the move a "milestone; a great day." Despite widespread enthusiasm, critics - including many epidemiologists, according to The New York Times - suggest that the change was premature.

May 12: Rep. Andrew Clyde (R -Ga.) denies that an insurrection occurred at the U.S. Capitol on January 6, declaring that the riotous attack seen across the world on video was actually more like a group of ordinary tourists wandering through the building. His comments drew major backlash, though a number of other Republicans also downplayed the incident.

April 29: CNN poll finds that 26 percent of American adults (44 percent of Republicans, but only 8 percent of Democrats) do not intend to seek a Covid-19 vaccination. At this point, 55 percent have received at least one dose. Some 58 percent of those who have received one dose say they're ready to return to normal life, while a whopping 87 percent of Americans who say "no" to vaccination are prepared for prompt return to normalcy.

April 28: President Biden addresses joint session of Congress.

April 28: Federal officers raid apartment and office of Rudy Giulani, seizing his phones and computers.

April 9: Public health experts anticipate a surge in Covid-19 cases, exacerbated by the more contagious, more deadly variants of the virus. By mid-April, every American 16 or older will be eligible for vaccination - though appointment-making remains a tedious ordeal in many areas. President Biden's goal of providing 100 millions doses by the end of May is expected to be reached well before that date, but tens of millions are refusing to accept vaccination.

April 9: In new memoir, former House Speaker John Boehner not only regrets voting for impeachment of Bill Clinton in 1990s, but holds Donald Trump responsible for inciting insurrection at U.S. Capitol on January 6.

April 3: CNN reports that lawmakers in 47 of the 50 states have introduced at least 361 bills that would make voting more difficult. Only Ohio, Delaware, and Vermont have thus far resisted pressure from Republicans to initiate legislation that restricts access to the ballot box.

April 2: More than 915,000 jobs were created in March, according to the U.S. Department of Labor. However, at least 8 million jobs that existed a year ago have not yet resumed – and may or may not do so.

March 31: President Biden initiates multi-faceted, $2 trillion "infrastructure" bill. Republicans, including Senate leader Mitch McConnell, immediately signal opposition, citing excessive cost. Biden has vowed to "go big" with investment in the country, despite the high cost.

March 11: In his first primetime address to the nation, Joe Biden vows that vaccines will be available to every adult American by May 1. He also promises to ease the procedure for making appointments and obtaining the inoculation, including a new federal website and substantial increase in number of vaccination clinics.

March 11: President Biden signs $1.9 trillion Covid stimulus/relief bill, including $1,400 payment to most Americans, boost in child tax credit, and additional $300 per week for workers receiving unemployment compensation. Bill passes the Senate without a single Republican vote. Proponents, including Bernie Sanders, consider it the most important progressive legislaton "in decades," while Republicans insist it's too expensive and includes elements unrelated to the Covid pandemic.

March 3: Congress cancels March 4 session, because security analysts found credible threats of an attack against the U.S. Capitol on that date, by far-right militia grouops. (Originally, March 4 was the date for the inauguration of a new president.) Conspiracy theorists have indicated they expect Donald Trump to be returned to the presidency at that time. (CNN)

February 28: Donald Trump makes his first public appearance since leaving the White House, speaking at CPAC (the Conservative Political Action Conference). Rather than focusing on issues pertaining to the Republican party, he spends considerable time continuing his baseless claim that he won the election, and on plans for revenge – attacking those Republican lawmakers who voted in favor of impeachment.

February 16: Rep. Bennie Thompson (D-Miss.) files civil lawsuit against Donald Trump, charging incitement of the January 6 assault on the Capitol. Rudy Giuliani is named in the siut, along with several far-right groups, including the Proud Boys and the Oath Keepers. Additional lawsuits against Trump are expected. The current suit was filed under the Ku Klux Klan Act, a vestige of the Reconstruction era following the Civil War.

February 16: In a statement, Trump attacks Sen. Mitch McConnel (R-KY) for his caustic, unambiguous criticism of the former president's behavior related to the Capitol assault.

February 15: Nancy Pelosi announces intent to establish "911-style" commission to investigate January 6 insurrection at the Capitol.

February 13: After voting to acquit the former president, citing concern about the constitutionality of impeachment, Sen. Mitch McConnell (R-KY) admits that Trump "is practically and morally responsible for provoking" the assault and rioting at the Capitol on January 6.

February 13: Senate votes to acquit Donald Trump in impeachment trial, with seven Republicans joining the 50 Democrats in vote of guilty. Those seven, along with 10 House Republicans who voted guilty, face possible censure from party officials in their home states.

February 9: Second impeachment trial of Donald J. Trump begins in U.S. Senate. Trump lawyers intend to challenge the constitutionality of impeaching a public official who is no longer in office. Democratic strategists are expected to make extensive use of video taken during and prior to January 6 storming of the Capitol, focusing on Trump's own words rather than introducing witnesses.

February 6: Rep. Liz Cheney (R-WY) is officially censured by her state's Republican party for voting to impeach Donald Trump.

February 4: Eleven Republicans join full complement of House Republicans to take committee assignments away from Rep. Marjorie Taylor Greene.
---
News Briefs from the Trump Years Are Available
Please Click Here for News Briefs from mid-March through December 2020 – plus the final days of the Trump presidency (January 1-20, 2021). Two years of Trump News Briefs (January 2017 to December 2018) may be downloaded as a PDF file. News Briefs from the period prior to Trump's 2017 inauguration also are downloadable in PDF form..
---
---
2021 Book Publication Schedule (tentative)

TK Press (a division of Tirekicking Today)
Tirekicking Today editor James M. Flammang, the author of more than thirty books (including six for children), has been working for some time on additional titles. Some are nearing final stages of pre-production. Each views its subject from an oblique and often lighthearted – yet serious – perspective.

Note: Preliminary outlines and/or unedited excerpts may be accessed by clicking on each link below. Additional excerpts will be available soon.

Inquiries from book publishers or agents are welcome. Please send e-mail to JF@tirekick.com.
Fraidy Cat
Surviving a lifetime of unwarranted fear and fright
A personal look backward, focusing on lessons learned about living with debilitating fear, anxiety, and panic, including ways to cope and survive. Unlike some self-help books on the subject, Fraidy Cat isn't just about fear in general, recounted and analyzed by an impartial observer. No, this is personal, agonizing, overpowering fear – the sort that constricted and devastated a decades-long chunk of the author's own life and continues to do so, if to a less ferocious degree. This personal memoir covers more than half of a lifetime, starting in adolescence. It concludes with warnings and pleas for fearful young folks to get help now, or be doomed to look back upon a lifetime of regret.
Fraidy Cat: Contents ... Outline ... Excerpts: Chapter 1 (Childhood) ... Chapter 3 (Sex) ... Chapter 5 (Addiction)
Untied Knots
Fiction by Flammang
Two groups of short stories, each with a tangy twist, make up Untied Knots. Those in "On the Go" are travel-based, taking place largely in Mexico. Much of the inspiration stems from real-life journeys and random residence within that country, undertaken as far back as the mid-1970s.

"Here At Home" tales focus on folks whose escapades are more localized. Though fictitional, most are based at least in part upon real people and places. The collection also includes several early stories, previously unpublished, from the author's archive.
Untied Knots: Contents ... Introduction ... Excerpts: Night Train Out of Queretaro ... Scandal in the Dayroom ... Bad Sports ... Desk Duty ... Ready? Go!
Absurdities
Logical Lapses in everyday life and thought
Comprehensive collection of stinging essays gazes with disbelief at dozens of aspects of modern life. Chapters are arranged in sections, including Work, Money, Identity, Communication, Technology, Consumption, Politics and Law, Pastimes, Sex, and Transportation. Work on this book began well before the 2016 election of Donald J. Trump. Therefore, the final chapter focuses on his bizarre, unprecedented presidency and its aftermath.
Absurdities: Contents ... Overview .. Chapter Outline ... Excerpt from Section III - Work (Our Biggest Myth)
Work Hurts
Reflections on a wasted life
Aptly titled, Work Hurts questions the conventional wisdom on work and careers. For untold millions, including many with "good" jobs, each day's toil delivers no joy and little reward. In addition to scrutinizing workplace issues in the past, Work Hurts considers viable alternatives to conventional employment – led by the fast-growing "gig" and "temp" economy, and its impact on less-than-happy toilers. Along the way, we illuminate the prospects for not working at all, potentially made possible by establishing a guaranteed income.
Work Hurts: Contents ... Chapter Outline ... Chapter 1 (Without a Paddle)
Hotel Life
Living small in an age of large
Assesses the satisfactions of simpler living and minimal consumption, while chronicling the joys (and drawbacks) of residing in low-end accommodations. Hotel Life considers such relevant topics as the guaranteed income, shrinkage and change in the labor movement, older suburbanites moving back into the city (or pondering the RV life), and the recent small-house movement.
Hotel Life: Chapter Outline ... Overview ... Contents
Steering Toward Oblivion
A caustic look at the history and future of the Car Culture
A vividly critical – but frequently humorous – observation of the car culture and auto business, including the automotive media. Steering examines automotive history as well as today's (and tomorrow's) cars, emphasizing their impact on daily life, the transportation network, the economy, popular culture, and the environment. Author James Flammang has covered the auto business as a journalist and historian since the 1980s.
...
Steering: Chapter Outline ... Overview ... Excerpts: Chapter 1 (Media) ... Chapter 13 (Motoring Manners)


For further information, please contact us at JF@tirekick.com.
---
Books by Flammang ... already on sale
TK Press, the book-publishing division of Tirekicking Today, has issued three titles since 2014. Each was written by James M. Flammang, author of more than two dozen previous books. Click Here for a list of his books and other publications.

Incompetent: Coming up short in a world of achievement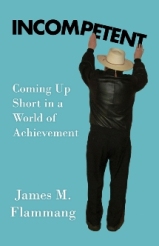 Whether it's sports, business, personal relationships, the arts, or any other area of life, some of us score a flat zero in the skills and talents department. Blending serious concerns with a humorous tone, each chapter covers a specific area of incompetence with which the author, amazingly, is all too personally familiar.

Incompetent is available at: Amazon ... and Barnes and Noble
ISBN (print): 978-0-9911263-2-3 ($10.50)



Mr. Maurice Knows It All ... and tells you so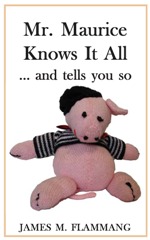 In 78 concise chapters, the debonair yet down-to-earth stuffed pig known as Mr. Maurice – who just happens to know everything – unleashes a torrent of acerbic, humorous, delightfully wise words on subjects ranging from work to movies, money to citizenship, status to guilt. An emigrant from Britain, with obviously French heritage, Mr. M. manages to combine strictly contemporary attitudes and piercing opinions with a gallantry and sophistication reminiscent of the era of Mark Twain and Ambrose Bierce.

Mr. Maurice ... is available at: Barnes & Noble ... and Amazon.
ISBN (print): 978-0-9911263-3-0 ($8.50)

Both titles may be purchased directly from TK Press. PDF review copies are available FREE. Just send e-mail to jf@tirekick.com. Please ask about printed copies, signed by the author.
Excerpts from Incompetent and Mr. Maurice ... may be seen at Bublish.com.


---


• Articles and essays related to current affairs, including relevant automotive subjects, will appear periodically.
---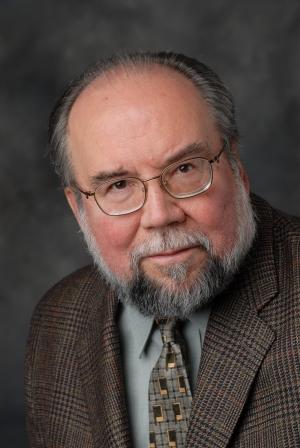 Tirekicking Today editor James M. Flammang, a veteran independent auto journalist, has contributed countless product reviews and feature articles to such publications as autoMedia.com, New Car Test Drive, CarsDirect, and Kelley Blue Book. He has written extensively for a variety of major outlets, including J.D. Power, cars.com, and the Chicago Tribune. Flammang is a member of the Freelancers Union and the International Motor Press Association, and is a past president of the Midwest Automotive Media Association. The author of more than thirty books, mostly on auto history, also has contributed extensively to Consumer Guide publications and to such trade publications as Ward's Dealer Business.
TK Press, established in 2014 as a division of Tirekicking Today, has already published three books by Flammang. Several more titles (described above) are well underway, scheduled for publication during 2021.
---
NEW!
Used Car
World
Following a several-year hiatus, Tirekicking Today is reviving coverage of the used car market – again emphasizing a consumer focus. Relevant reports on new vehicles also will appear in this space.

Editor James M. Flammang has been reporting on used cars since the 1980s, not only for this website but for Consumer Guide's used car buying guide, along with a variety of other consumer publications.

We start with a report on the gradually growing market for electric cars, including a brief history of EVs and a rundown of some new entrants. Next is a detailed look at the volatile used car marketplace, Used Car Trends, featuring comments from experts attending the annual pre-owned car conference – dubbed Used Car Week – as well as the Auto Intel Summit held in May. (Both events were presented by Auto Remarketing magazine, a trade publication.)

Additional subjects to be covered in this section will include:
• Cars vs. Trucks in the sales race (Hint: Trucks have a strong lead.)
• State of and expectations for auto financing
• Why have used-car values hit record highs in 2021?
• Whatever happened to the Repo Man?
• Which is best, economically speaking: New or Used?

---

News Headlines
in the Auto World
• July 15: Slimmed-down version of Chicago Auto Show opens, partially outdoors.
• July 13: Average used-car price rose by 10.5 percent in June, versus 1-percent hike in overall prices.
• July 2: Shortage of new cars has pushed late-model used-car prices to record heights. Some models purchased during pandemic are actually worth more now than when they were new. Edmunds.com notes that this phenomenon applies to models ranging from Chevrolet Corvette and Dodge Challenger to Honda Civic and Subaru Impreza.
• June 8: Ford reveals new compact pickup truck with full-hybrid powertrain, borrowing its name from compact coupe of the 1970s. Claiming 40-mpg city gas mileage, 2022 Maverick will start at $19,995.
• June 1: Gov. Cuomo announces "reimagined" in-person New York Auto Show, opening August 20 at Javits Convention Center.
• May 11: Subaru announces name of new SUV, scheduled to go on sale in 2022. Combining Latin words for sun ("sol") and earth ("tera"), Soltera results from a joint venture with Toyota.
• May 10: Ford names its new electric pickup truck: the F-150 Lightning. In February, GM announced intent to produce only electric vehicles after 2035. Brand-new automakers also are entering the electric-vehicle arena, including Lucid Motors. The Lucid Air luxury sedan promises 500-mile range.
Note: In addition to news items, occasional articles on automotive history and the car culture will be featured.
---